"You have established an extraordinary network of knowledgeable people, who apparently will do all they can for you because they like you as a person and respect your talent and professionalism" Per Rold S.Y. Cecilie
Noumea Ocean can arrange for a wide variety of repair projects to be done alongside the Superyacht Marina wharf. We have even replaced rudders while the yacht was afloat in the marina. However, if the vessel needs to be hauled out to make repairs Noumea has excellent slipway facilities for superyachts of any size.
Cale de Halage
Noumea's marine rail slipway can handle vessels from 200 to 1000 Tons.
Cale de Halage is located in the Petite Rade. It has three separate marine railways capable of hauling vessels up to 1000 Tons.
Noumea Ocean can organize tradesmen and equipment for whatever work your yacht requires. Slipway availability varies seasonally and advace notice may be needed for reservations. Emergency haulage is possible.
Services:
3 Marine Railways
Vessels to 1000 tons
Hardstand area for longterm projects
Water Blasting
Sandblasting
Tug assistance with hauling and launching
Fresh Water
Garbage bins
Electricity (220 + 380V 16, 32 and 63 Amps)
Toilets and showers
Parking
Security guard
Nouvelle Plaisance Slipway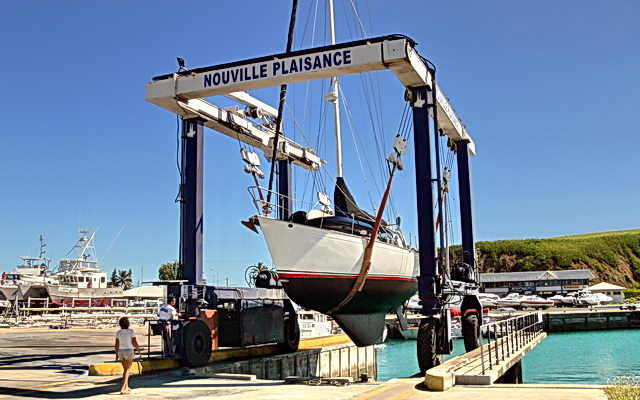 Nouville Plaisance is a yachting repair centre with a complete range of chandleries and yacht services. The travel lift will handle boats to 50 tons, maximum width 6.2 metres.The shipyard has a clean cement hard stand with provisions for long term storage, video surveilance, toilets and showers,and lifting crane. The yard can handle mast removal, replacement or storage for masts up to 45m.

Noumea Ocean can organize all or part of your yacht's requirements.
Services:
Travel Lift to 50 tons, maximum beam 6.2m
Water and Sandblasting
Cement Hard Stand
Segregated Hard Stand - Painting, Welding, Grinding
Long term storage available
Electricity and Water
Trash Bins
Work Wharf for Mast or Engine removal.
Mast lifting, storage, painting area
Video Surveilance, Night Security
Showers and Toilets
Ship Chandleries
Painters
Outbord Repairs
Welding
Sail and Canvas Repairs
Life Raft Servicing
Parking
Truck Access to Hardstand
Google --By Chloé MORIN--